Pro Shop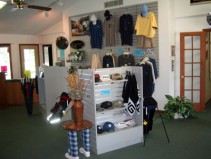 Country Lake Golf Club offers an array of golf merchandise to compliment your game. Balls, Tees, etc…….
Stop by our fully-stocked Pro Shop before or after your round and browse through name brands.
Practice Facilities
The new Country Lake practice range offers the player a choice of Zoysia grass or matted tee area. Range balls are priced at $4.00, $6.00 and $ 8.00. Private and group lessons are available.
The range plus two putting greens give the golfer an opportunity to work on their game fro Tee to Green.
The Fairway's Bar & Grille
The Fairway's Bar & Grille is open to public daily 10:30-2:00PM. Closed on Mondays. The Fairways's Bar & Grille is know for providing a casual atmosphere, great food, cold beverages, and a panoramic view of the course. Come relax with friends after your round and enjoy an array of appetizers, salads, sandwiches, and pizzas. Don't miss out on this diamond in the rough. Sunsets are spectacular.